Top 10* Worst Fashion Trends of 2008


. . . and other things I'd like to see less of in 2009.





Anything Designed by Christian Audigier


How this man has been so successful is a complete mystery to me. If you've never heard of Christian Audigier before, it's highly likely that you already hate him (and didn't even know it) since he was the "creative force" behind those annoying Von Dutch trucker hats back in 2003. Here are a few samples from his Ed Hardy® clothing line which his website describes as "luxury streetwear". Seriously, who buys this stuff?





Men's Super Skinny Jeans


I added "super" because

some

guys can pull off the skinny jeans look. But, unfortunately, most guys can't without looking a tad pre-pubescent. Observe:





Oversized Sunglasses


Yeah, this trend has been around for a few years now, but I'm

really

hoping that by next year people will finally realize how ridiculous it looks. It's just silly.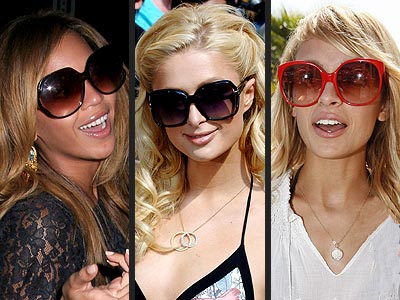 Silly x 3 = trilly



Shooties

= combination of "shoes" + "boots" (also called "booties")


At the time, I really thought this look had a lot of potential, especially when paired with a pencil skirt or tights. But I'll be glad to see them gone in 2009. Even the name annoys me now. Shooties.
A pair of shooties.
Shutter Shades

I believe these were first introduced by Kanye West. Since I'm naturally inclined to think Kanye sucks at most things, I guess I was heavily biased against this look to begin with. Let's be honest, there's no way you can wear a pair of shutter shades without looking like a tool. Speaking of, here's a picture of Kanye trying painfully hard to look cool in a pair of his own while "rapping" on stage.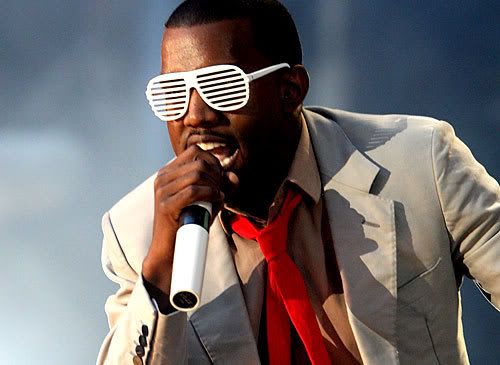 "Damn, Kanye, you so cool! Teach me to be cool like you!"
Giant Scarves


The ironic part of the mega-scarf trend was that it reached its peak during the hot summer months. Even though I'm a huge fan of scarves as accessories, this look was just excessive and totally taken to the extreme.

Julianne Moore: smiling on the outside, hurting on the inside.
Buddy Holly Glasses

If your name doesn't start with Buddy and end in Holly, then chances are you shouldn't be wearing these. I've seen way too many people sporting this look recently and it just looks completely uncreative.

Woo-ee-oo, I look just like Buddy Holly . . .
Straw Fedoras


Like the "oversized sunglasses" look, the fedora trend has been around for what seems like an eternity. To me, nothing screams "trying so hard!" than a strategically placed straw fedora. As an example of how ubiquitous this look has become, last weekend, at just one bar, I counted nine (9) guys wearing a straw fedora. Unfortunate.





Baggy "Boyfriend Jeans"


I think Katie Holmes (first image) started this trend and I'm pleased to say that it never really seemed to catch on among us regular, non-celebrity folks. In short, it's just an incredibly unflattering look.




If you break up with your boyfriend, who keeps the jeans??





Celebrities Getting "Political"


Less a wearable fashion, than a fashionable "statement", this year's presidential election brought a barrage of celebrity ads encouraging young people to get out and vote. Unfortunately, they were about as effective as those old-school "The More You Know. . ." NBC public service announcements. Here's an obvious example:






*List is in no particular order, and of course, just my silly opinion.